Aaronbeg Bed and Breakfast is situated in Moyglare, Maynooth

We offer a warm welcome and friendly service to all our guests, and our intention is to make your stay with us as comfortable and stress free as possible. You can also relax and read or watch TV in the lounge or if you prefer you can retire to the privacy of your room with television and tea/coffee making facilities.
Maynooth is an Historic University Town Situated 24 km from Dublin. It is serviced by Bus and Train which links it to Dublin, Galway and Sligo.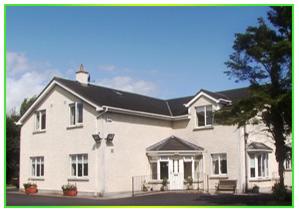 Surrounded by farmland, with
> Moyglare Stud Farm within walking distance.

> The K Club, home of the Smurfit European Golf Championship from 1992 to 2007,and Ryder Cup venue in 2006 is approximately 10 km from Maynooth.

> Carton House and Demesne (which dates back to 1176) are situated in Maynooth, and forms part of its Heritage. Once owned by the family of Lord Edward Fitzgerald who led the 1798 Rebellion, Carton is now being developed into a luxury resort,
>Carton House Golf Club with a luxurious hotel and golf courses.
and home of the Golfing Union of Ireland

> Maynooth Castle is situated in the centre of Maynooth, and is believed to be the site where cannon fire was used in Ireland for the first time.


We offer:
=4 Spacious Bedrooms, all en-suite
=Tea / coffee facilities in bedrooms
=TV in bedrooms
=Downstairs Bedroom suitable for disabled guests
=Breakfast Menu available
=Lounge with wood-burning fireplace and TV
=Secure parking
=Child Facilities; Babysitting, cot available.
Price:
Single bedroom from €40.00